Bridgez: Getting started...


Play brige with Wbridge5
Before playing at our « Bridgez » club, you need to register with a valid email!…
This will create a storage folder on the server in which all your personal data will be stored including your played
boards.


Email is the unique identifier of this space. A password is required to prevent other people to play instead of you. The
pseudo is the name which will appear in the results.


If You decide to play from your browser, just click here. There is no need to download programs as the browser will manage without. If you like it do not forget to put it in your favorites in order to have a simple acces to it. You can play under Linux, from a Mac or on a Touchpad.

All what follows concerns the setup of program. If you choose your browser (recommended) you don't need to read it.

But if you also wish to download all the necessary programs on your computer (Windows only). You do not need to bother about them. This will explain the features you will then find.
Just be aware that you will have two main different programs:

Wbridge5 which is the robot playing bridge
A display for the result, the analysis you which to make, and the posted comments.
If not already done, You can switch them in English thru their menu.
Once registered, you will get a shortcut

on your desktop which will make a straightforward connection to our
site in order to play the daily on line tournament.
Well, the registration process should have been finishing with the opening of the window shown below. If not, click on the
shortcut, which you will have to do in the future.


Getting in it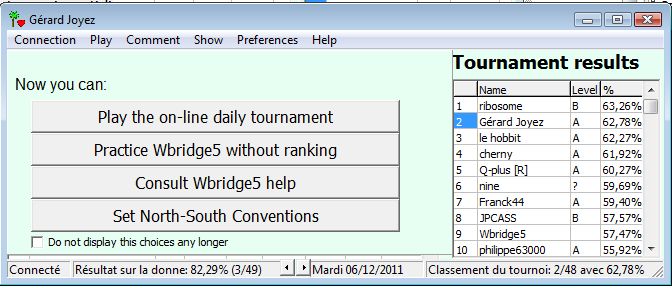 Please notice the four major offered choices in order to get you used to the site ergonomics. Later on you can go without
this front page (use the checkbox to cancel its display): you will directly access to your results and you still will able to get
them thru the menu (and more!).


First choice: «

Play the on-line tournament

» is likely to be the most interesting for you. Here you will play the same boards as other players in similar conditions. And get of course a ranking among them on each played board and for the tournament.

But you can also, before getting

to this competition,

practice with Wbridge5

in order to get used to its environment and its numerous features.

You will see that for practicing, Wbridge5 will provide information and advices, even play for you if requested. This will

not be available – of course - during the competition!

To

help you

to get used to Wbridge5, you can access to

the specific Wbridge5 embedded help. This will guide you to the

available

functions.

You can

set some conventions

that you will prefer. The bidding convention explanations- in french - are available there. A Google translation facilty is available to get them in your own language. it's not perfect, but better than nothing...

A 16 board tournament is available everyday, the first board with a technical point to solve which is explained in the comments.
For those daily tournaments, EW opponents will have at each table the same conventions which are the default
conventions
that Wbridge5 used for the international contests. They are quite close from the French standard but with some
deviations making the program to perform better during those competitions.


However, you can select for the NS team some preferred conventions. This has to be done before connecting to the
server as, once it's done, it is not possible to change them. These conventions can be saved in order to recover them the
next time you will be playing.
To play, Wbridge5 will connect itself to a server which will send it the boards to be played. Once a board has been finished, the results are automatically sent to the server which will compute your ranking and return the result in the display program.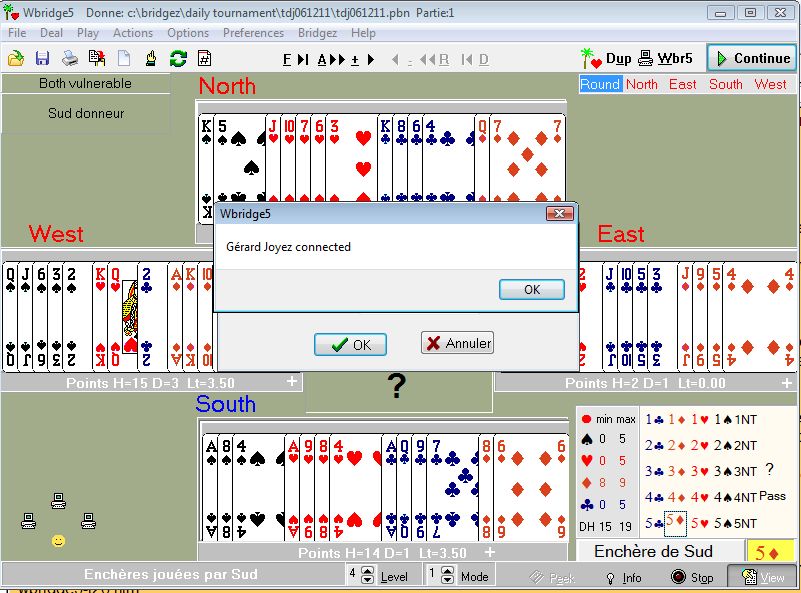 Once you have clicked on the Ok button, all the tools made to help the bridge player will disappear and you will be facing the first deal to play. Please, start the auction in clicking on "Continue",
or, best practice, on a corner of the central square (the playing table).
Once the board has been played, the result is automatically sent to the server which makes the ranking and returns it to
the display window.
This window can be open on the same computer or on a different computer also connected to the internet. One can play
on a computer and get the result on another one.
The setup is based on a window manifold: each window contains specific information.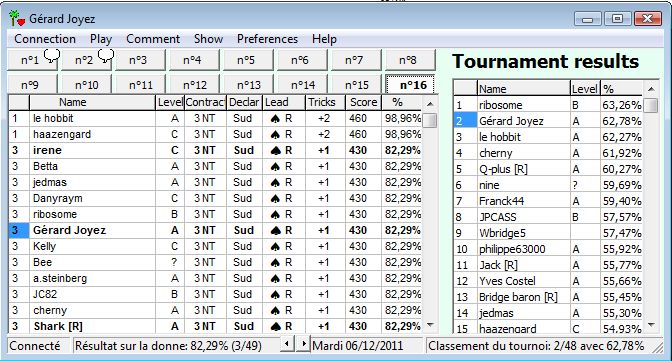 The display window dimensions and positions can be adjusted at will. they will be remembered for future sessions.
Have a closer look to the menu bar
Connection
If only one player is using this program then the connection is made automatically at launch and normally you do not have to use this menu item. If more than one player, then a player selection is possible thru that menu item


Play

: opens the Wbridge5 playing table either under the standard size or full screen. This is done by temporarily changing the screen resolution to 800x600 pixels. The original screen resolution is recovered when closing either program.


Comments

: According to the selected board, the number of comments made on that board is indicated. This

menu item opens a window where they can be read, to add some and even to peek at the play of any mentioned

player by selecting his pseudo as shown below.





Comments can be added. A small tool bar enables to insert suit symbols, smiley, and to change the appearance of

the text (size, color, underlined, bold…)





Please notice that you can get a crude translation of the comments, and you are welcome to make it in english if you wish.
Also internet links are active so you can directly access to some other information.


Each time a new comment has been posted that you hav'nt read yet, a bubble shows up for indicating it. You can acces to the comment window by clicking on the bubble, or wwith a right click on the tab.


Show
There are some features that you may find very useful. The first one show a

summary of the deal

as played by the selected player.


On that window you get a lot of information about the deal, the player auction, a brief description of his achievment and also what it was possible to play on that board. When you browse from one player to another or to another board this updates accordingly.

The second offers to get

your own roadmap

on the tournament.

the third provides a list of all

tounament you have played


Next is access to the

monthly rankings

: overall, card playing, auction. There are separate estimations of them.

The last one opens a web page your

own statisitics with analysis

of your way of playing

The preference

menu enables you to restrict the display to plyers that you have defined as "friends"., to adjust your conventions, to select your language, and a few other topics.

Whenever a new version is available, a menu item

Update shows up.


Help

:


a. help forwards to the forum where it can be found

a link to the convention explanations (still in french yet!)

Versionning of the display program

Results on the boards

The authors of comment are also followed by a bubble which make easy to find back a board for a specific comment.
The connected player (you !) is mentioned by a yellow highlight of the line.
One can select a player: he will be followed from board to board, day to day.
A click on the mouse right button on any pseudo will display a popup menu: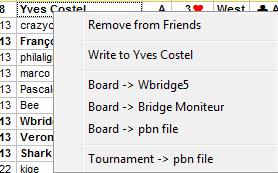 You can select a player to be among your friend for a restrictive filtered display. You can send a message to him. Be aware
that your true email will be presented to him.
One can send the board to a new instance of Wbridge5 in order to see and play it, or to Bridge Moniteur, or to record
in a pbn file, either this single board or the entire tournament.
Any Column can be alphabetically sorted by clicking on its header.
Very simple array where also features sorting column.
Some overall information are shown.


Please, notice the small arrows for browsing neighboring days.
It is possible to directly select a date by double clicking on the date; a calendar will show up.

You will find some more advices on http://bridgez.forumactif.com/pas-a-pas-f9/7-astuces-t22.htm
Wbridge5 help
In case of having problem to access the help an advice is provided at http://bridgez.forumactif.com/pas-a-pas-f9/11-aidede-
wbridge5-t26.htm
While playing, questions or remarks may show up. Please, do not hesitate to write them either in the comments or on
the forum. You certainly will get answers as somebody will be delighted to do so!
Welcome with us and enjoy bridge!